Preparing the ground for planting your hedge
It is important that a hedge looks great from one end to the other and this means the ground needs to be evenly prepared as well.
I often see hedges where it is growing well at one end and struggling at the other. This could be due to drainage, rocks or more commonly the homeowner started with enthusiasm preparing the ground well at one end but by the other they were nearing exhaustion and didn't dig the hole well for those plants.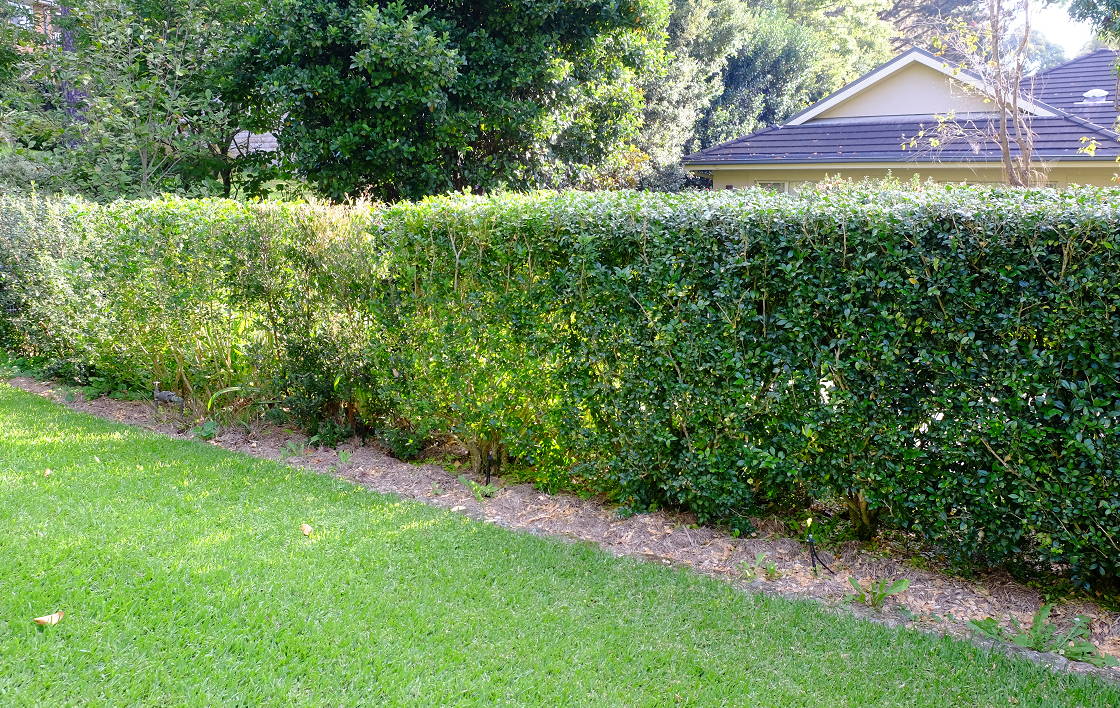 A Murraya hedge looking great at one end but not so good at the other.
---
To make this job easier I highly recommend getting a Power Planter 324h. This is the long version of a Power Planter and allows you to dig from a standing position with it attached to a reasonable 18v cordless drill. The hole you dig needs to be at least twice as big as the pot the plant is in. A better approach though is to dig a long trench where the hedge is to go, so that the roots can branch out sideways easily and grow evenly. Mark on the ground a rectangle 0.5m wide and the length of the hedge. Drill a grid pattern of holes about 15cm apart and 30-40cm deep.  Then with the Power Planter spinning, move it sideways in this drilled area to break up all the bridging soil.
Depending on how hard your ground is, you may need to dig down 15cm, and then go back over the same area to dig a further 15-20cm depth. Stop and take breaks when you need, to do the job well. Digging with the Power Planter is about 3-5 times faster than digging by hand and requires half the effort.
Now that you have a nice, evenly cultivated bed, pour some aged manure on top. 1 bag per 2m2 would be sufficient and use the Power Planter to mix it all in.  If you have clay, then add gypsum as well. This helps to break the clay up making it easier for plants to get their roots in the cracks.   If you have no topsoil (the nice dark layer of soil above clay) and it is all just clay, you may need to excavate the clay and remove it totally and then fill this area with brought in soil from a local soil yard. Try and consider drainage though as clay can act like a swimming pool so adding a 65mm ag pipe drainage line to the hole and feeding the water out to a lower point can help solve this.
Evenly space your hedge plants out along the line and plant each one. The soil should be soft enough now that you can just use your hands to scoop out a hole for the plant to be positioned. The top of the soil should be level with the top of the pot soil. ie. Don't bury the trunk.
Watch as Brian and Kaylene plant a privacy hedge on Channel 10s Healthy Homes show.
Once planted make the decision as to whether you should prune the hedge hard to induce lower branching or whether the plants you have purchased have good side branching and now you just need to trim them all to the height of the shortest plant. See this story in the previous issue of Aussie Gardener Magazine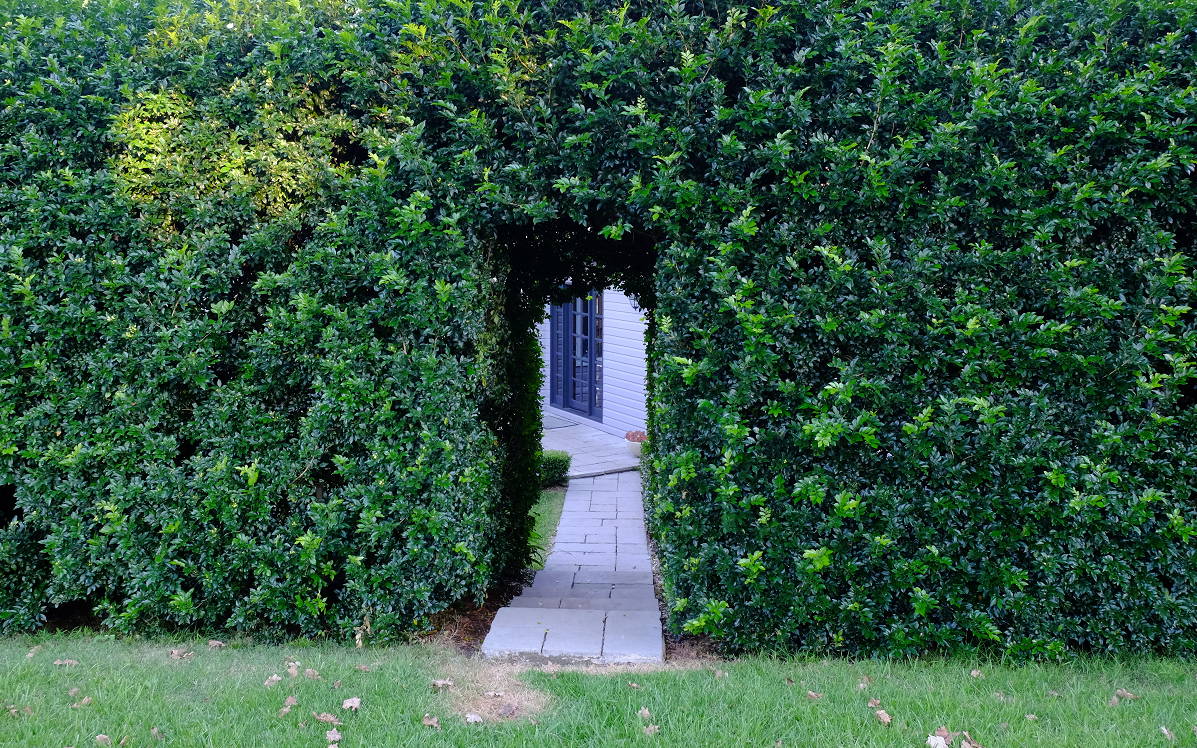 By pruning your plants low from the start you will get thick growth from the ground up.
---
Most hedges are grown for their leafy growth so a fertiliser that is high in nitrogen will produce the best results. For a set and forget approach use Amgrows Ferticote All Purpose. Sprinkle this on the surface beneath your mulch layer. It will slowly release nutrients into the soil.
If you want to actively fertilising regularly and speed up the growth, feed with a liquid solution every 2 weeks of Amgrows Nutrafeed All Purpose.
There is one other fertiliser that I highly recommend you apply to thicken up your hedges and that is Amgrows Harvest. We have found that when this was applied to hedges it produced denser growth. If you have a hedge that has gaps and is looking a bit sparse. Mix up a batch of Harvest and pour a bucket of solution on each plant. Works well.
Each hedge will have different growth rates and this will also vary depending on the area you live in, so there is no hard and fast rule as to how often you should be trimming. The more frequently you trim, the tighter more compact your hedge will be. There are two stages to a hedge though. The first is to grow it to the height you want it to be, and then there is maintenance to stop it growing any taller.
For the growth stage a simple way to approach it is to go 2 steps forward, one step back. That is to let it grow 20cm and then trim half of that growth off. This will cause more branching and even growth from the bottom to the top. In English gardening books you will often hear them say to grow the hedge wider at the base than the top to ensure light gets to the bottom of the hedge. In Australia we have no shortage of sunlight so this is not generally necessary. A vertical faced hedge will do fine. 
Once your hedge is the desired height, it will be a lot easier to see where to keep trimming back to. A powered hedge trimmer is the way to go for this job. We used to use petrol powered hedge trimmers on our acreage property but have now changed over to using the Dewalt 18v units. They are surprisingly effective for a relatively small and light weight unit.  If your hedge is up to about 2m you can use just the hedge trimmer and a small step ladder. Any taller than that and you will also need the Dewalt Pole Hedge Trimmer to make the job easier.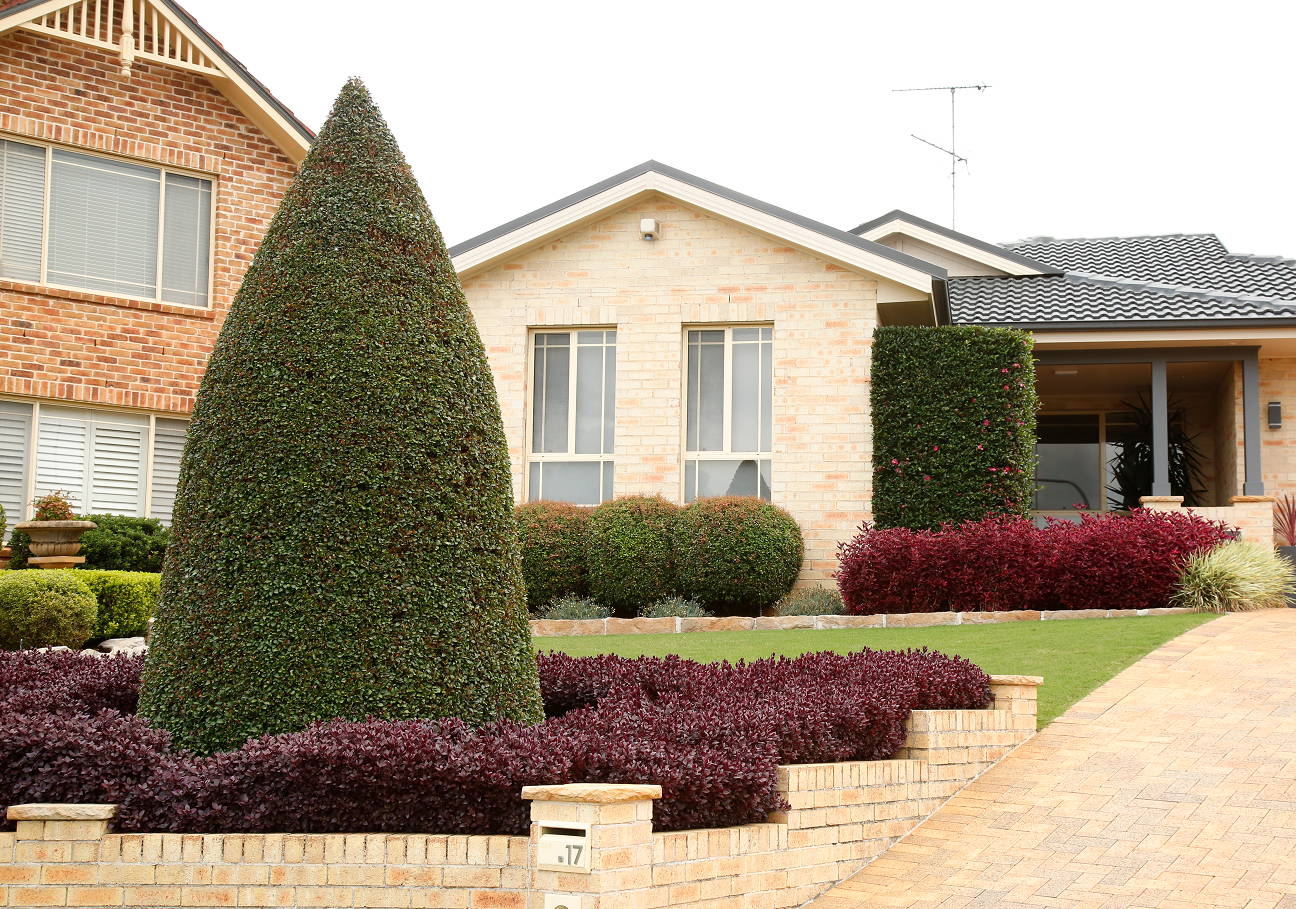 A spectacular topiary Lilly Pilly Cone really stands out in this suburban front yard
---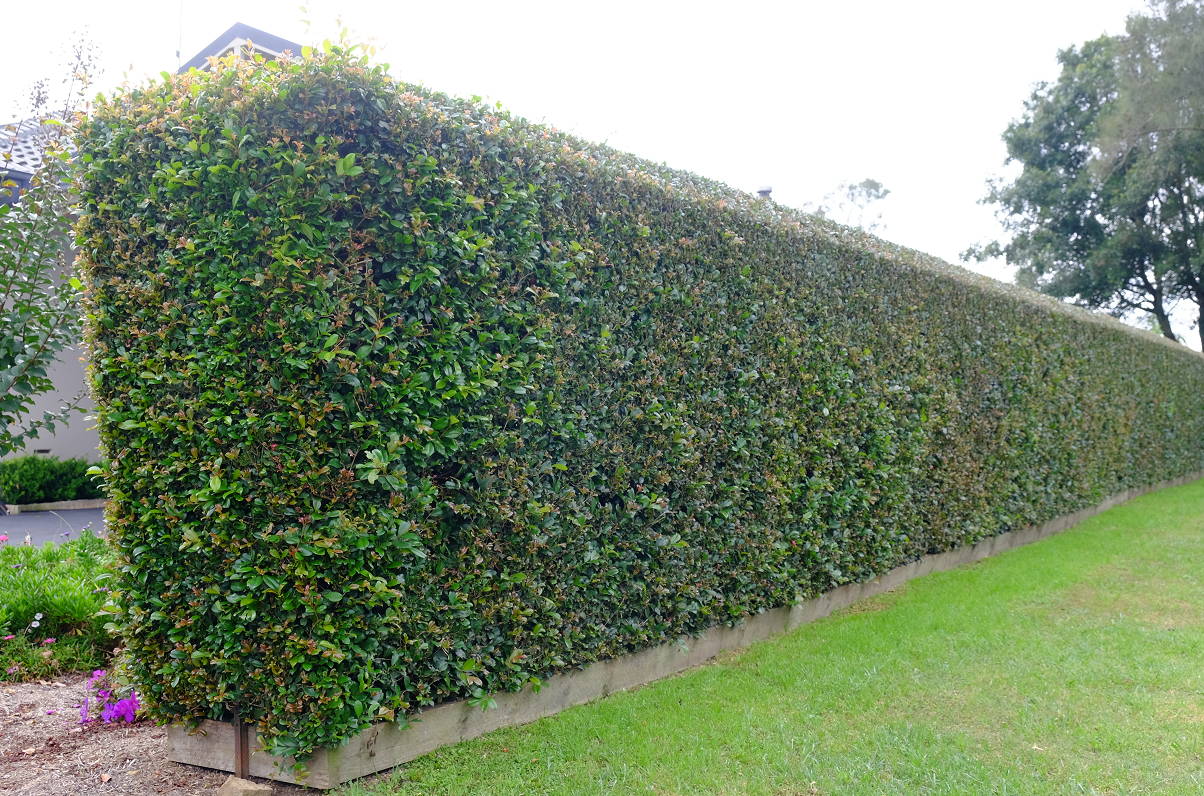 A bevelled edge on this Lilly Pilly Hedge gives it a nice finishing touch. I wonder if the owner is a carpenter by trade
---
Keeping your hedge healthy
It is important to regularly check in on your hedges health. Being all one plant type in a row, if one is affected it can quickly spread to the others. . Every few weeks take a close look at the leaves and look for deformities (leaf miners/psyllid's) , webs (mites), small insects (aphids), shell like lumps on the leaves (scale), pale leaves (lacking Nitrogen) etc. Most hedges are quite tough and if you keep them in good condition by having prepared the ground well and regular fertilising and not over or under watering, the pest and disease damage will be minimal. A long slow watering once a week is generally all they will need. In winter this may be less. Aim to keep the soil a bit damp but not soaking.   If you do need to treat for other insect or fungal damage, there is a full range of treatments in the Aussie Gardener Store pests section
As mentioned earlier, applying Amgrows Harvest to your hedge every month when it is actively growing will help it stay strong.  50ml per bucket of water for each plant.