Seriously Sweet Superherb Stevia
Stevia rebaudiana (Botanical name to impress your friends)
This plant is so good it almost feels like it should be illegal to grow it! You might have seen this appearing on drink labels for Zero sugar soft drinks. Its Stevia (pronounced Stee-vee-uh)
We've grown Stevia in our veggie patch for a couple of years and it is quite an amazing plant. You can pick the leaves off and eat them raw and it really does taste like you are eating a teaspoon of sugar, plus the glycoside compounds that make it sweet are resistant to heat so you can use it in cooking as well. Cook a cake and skip the sugar and instead add some Stevia leaves. 
I've got a bit of a sweet tooth. Love a good biscuit or cake with my coffee, but I'm noticing a bit of a spare tyre appearing. If I can start using Stevia more then I can enjoy the sweets but not the calories. In fact it has zero calories. Now all I need to do is convince all my local cafes to start using it too!
Stevia plants are pretty tough but they do die back in winter and then return again in spring in warmer areas. If you live in a cool zone you might need to treat it as an annual and replant it each year.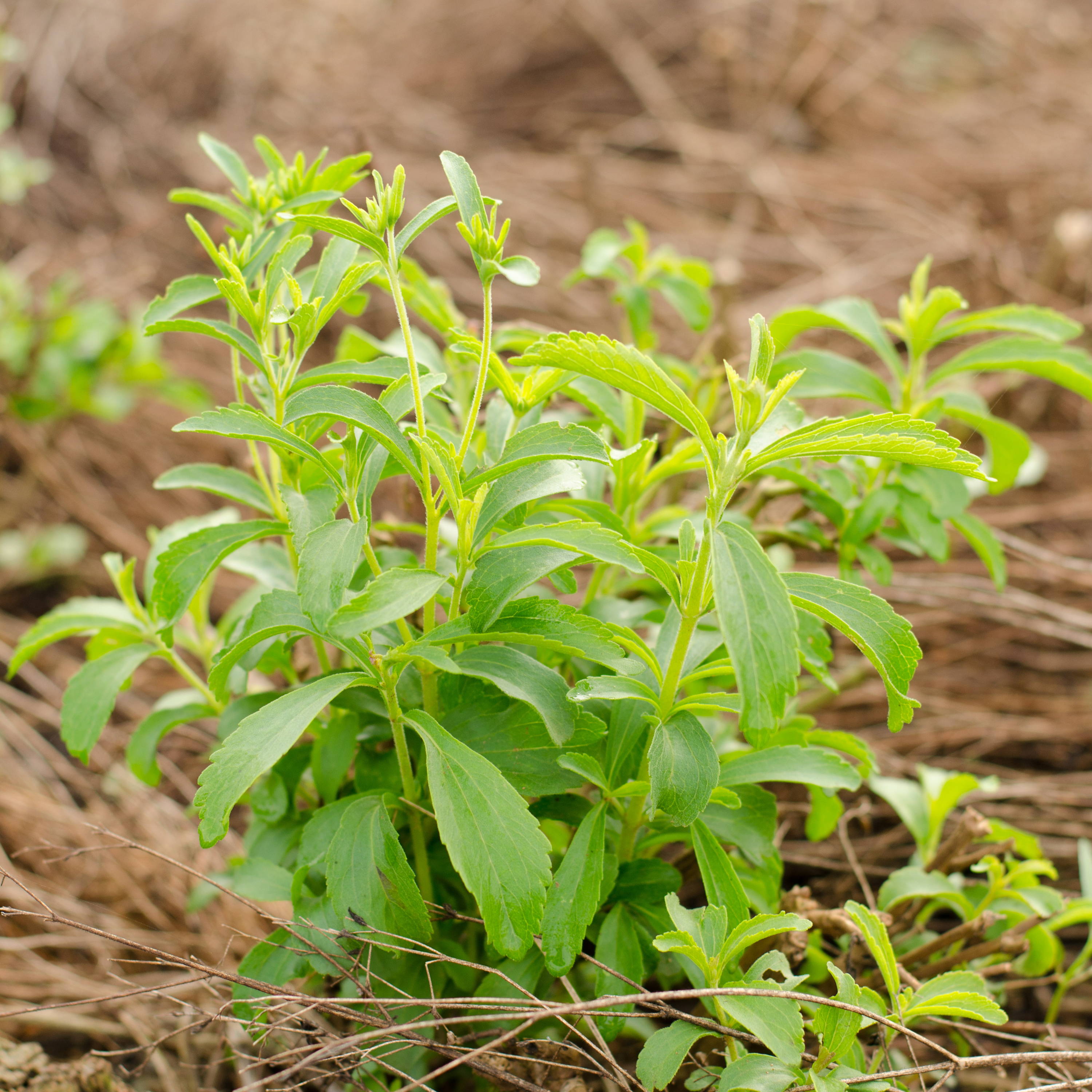 The key is to stop it flowering so regular pinching off new growth will keep it compact and stop it going to flower which makes it lose some of it's sweetness.
Stevia originally comes from South Africa (like quite a few favourite plants in Australia -agapanthus, gerberas, gazanias, clivias, daisies, proteas, jasmine).
It grows to about 60cm high but you can trim it frequently to keep it bushy and not flowering. Best if planted in full sun in a fertile soil that is well draining. I have noticed though that it can wilt pretty easily when a warm day comes along so it still likes a good drink. Adding mulch will minimise this happening.
Speaking of drinks, you could add this to any drinks to sweeten them up.

 
Anytime I've made a smoothie that is a little bitter I'll add a couple of leaves and magically it tastes a lot better (not bitter) and I don't have to feel guilty.
There are so many good things about this plant I'm surprised it is not more widely grown.
It's soluble in water, non fermentable, non toxic, no aftertaste and you can dry the leaves and keep them indefinitely to be later added to dishes. Imagine making a nice apple pie but without the half a cup of sugar usually required! (Just keep in mind that if you take out the sugar you need to fill that volume with something else like apple fibre.)
If you do dry the leaves, they can be ground up into a powder and then easily added to coffee and tea as a sweetener.
Growing Stevia from seed or cuttings
It's becoming a bit more available in nurseries in the herb section usually. Sometimes you can get seed and grow them from that but it is a bit difficult to get it to germinate.
The best approach would be to buy a plant or get some cuttings and propagate those as it strikes very readily.
Steps to grow Stevia from cuttings:
- Find a friend with a Stevia plant and take a few 10cm long sections.
- Remove all the leaves except the top 2.
- Dip the end in some rooting hormone. We use

Rootex

.

- Insert the cutting to about half its height into some

propagation soil mix

and water.
- Keep it moist with a

propagator

and mist each day.
- Look for roots growing out the bottom of the cells and then you know its ready to transplant into a 150mm pot. (Once it grows more roots, then it can go in its final growing spot)
- Stevia is frost sensitive, so you might need to bring it inside if in a pot during winter, or use a protective cover if out in the garden.
How to harvest and dry Stevia
Very simple, cut off branches in the warmer months before it starts flowering and hang them upside down in a dry airy spot. A large paper bag to catch the leaves would be beneficial. Once dry you can collect the leaves, grind them up in a mortar and pestle (or your coffee grinder) and then store for when you or your food needs some sweetening. You will know when they are dry enough because they will sound crunchy. A rolling pin would also work to turn them into a powder.
How much Stevia do I use instead of sugar?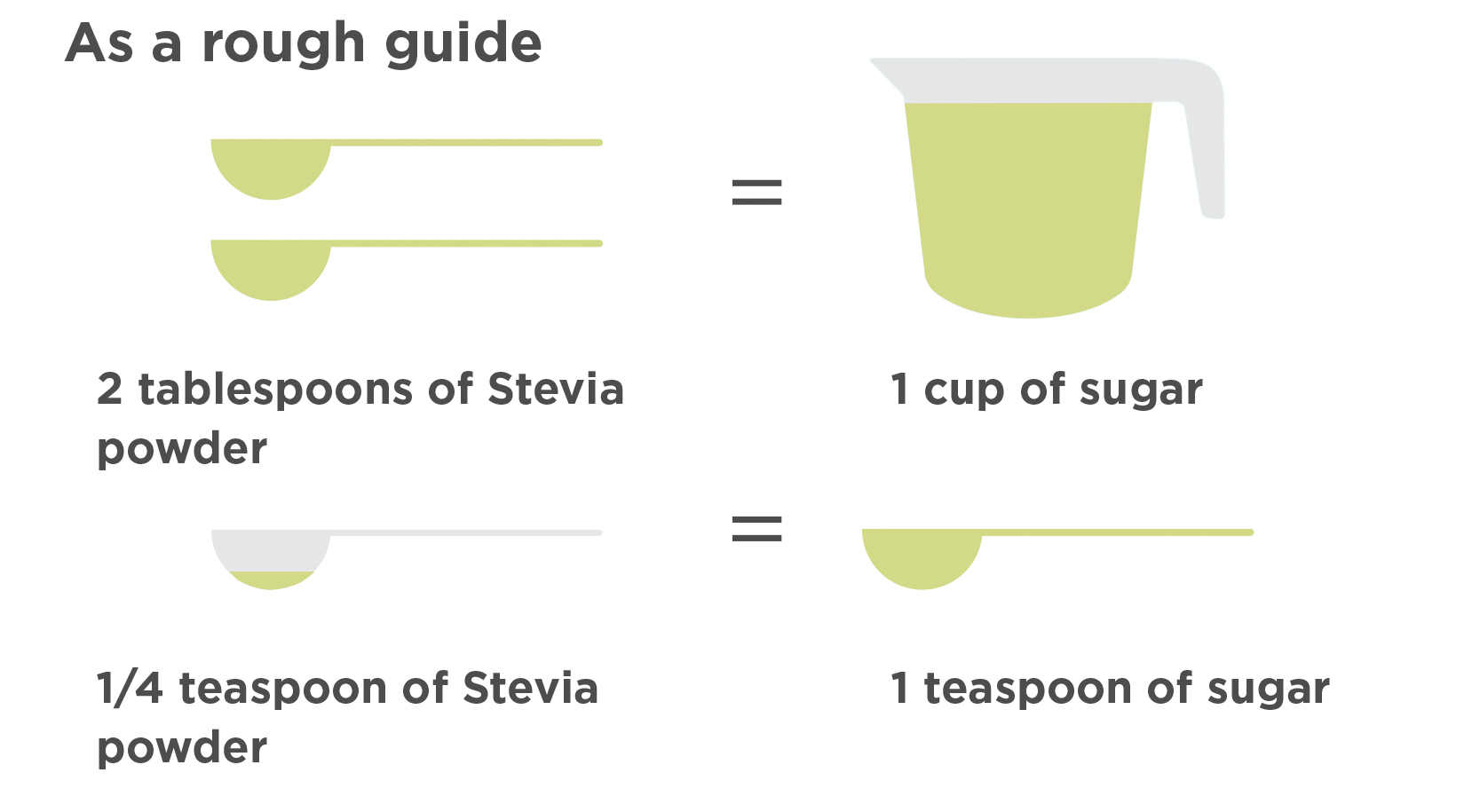 To make a Stevia Syrup, add just 2 teaspoons of dried Stevia powder to 1 L of water and store in the fridge. Could be a good one for the Sodastream users out there.
Here's one for you to try that tastes delicious and only takes 15 minutes to cook!