We are now in the middle of Autumn, my favourite time of the year. Finally the summer heat has passed and we can get stuck into a few jobs in the garden without feeling like we're going to pass out!Here is the Top 20 things to do in April to keep you busy.Happy Gardening.
Remove any pest affected fruit that isn't edible and discard in the rubbish rather than compost so that you don't carry unwanted bugs into the next season. Look for mummified fruit and discard. Sometimes they can carry disease harbouring spores.
You will likely have lots of leaves from Autumn trees soon, so if your compost bins are ready, take the compost out and dig it into your veggie and garden beds. If you'd like to learn how to create great compost, watch Episode 4 of our Free Veggie Classes that talks about soil health, composting, testing the pH and crop rotation.
With all the wet weather we have been having, you may find that some plants are suffering as they are normally used to having it fairly dry and good airflow. Remove saucers on pots so they can drain well.
Trim off lower branches on veggies that are getting a bit overcrowded to give space for airflow which keeps them healthy. The Aussie Gardener Kitchen Scissors are perfect for this job.
Now is a great time to do some cuttings (propagation) You will get the best results using a Rooting Hormone and a Propagator to keep the humidity up. If you want to have even greater success, get one of our heat mats which gently warms the soil and helps the roots develop. That's what they use in professional nurseries specialising in plant propagation.
If you have automated watering systems, you will need to adjust them to reduce the frequency of run time. Many of them have a function that you can just adjust the watering by a percentage based on the season. So in Summer it would be 100% and in Autumn you might cut to 75% and then 50% in Winter. Check your systems manual to see how to set that up.
Now is a great time to start thinking about which Deciduous trees you would like to plant in the garden. Check out the Flemings Top 10 trees guides. You could prepare the spot you plan to plant it by digging in compost and manure now, and some gypsum if you have clay. Get it ready and then wait until winter when they have no leaves to plant it. You may be able to buy some bare rooted trees from your nursery which will be a bit cheaper.
If you would prefer an evergreen tree or hedge, now is the time to get those into the ground.It's warm enough that plants can get their roots down before winter and then when spring comes they will grow rapidly. Digging the ground is much easier if you use a Power Planter. Over 60,000 of our Aussie Gardener customers use them. Brilliant tool.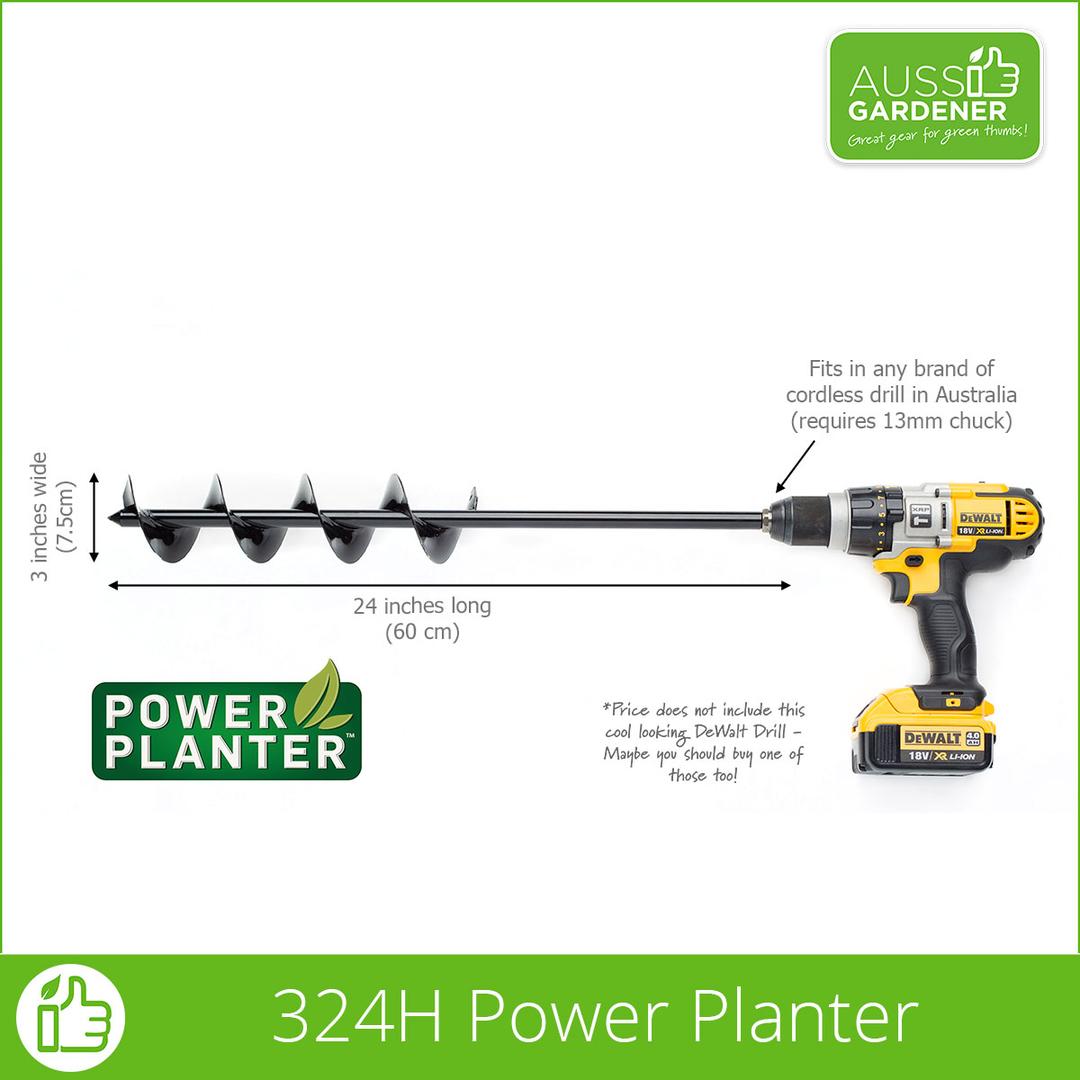 A favourite with gardeners because you can dig the ground from a standing position. 24inches long (60cm) you can comfortably stand up and drill into your soil with very little effort required. You wont even hesitate the next time you need to plant something when this tool makes it so easy.
(It is best to have a range of sizes though as the 324h is too long when you are on your knees digging.)

60cm (24inch) long and 7.5cm (3inch) wide 
Solid Steel Shaft - Guaranteed not to bend of twist out of shape.
Good for cultivating whole garden beds. 
Fits any 18V cordless drill with a 

13mm  chuck size.  

 

(Note: Bosch Green only have 10mm chuck so can not fit this size Power Planter. Stick to the 207, 307 and 312 which are 10mm)

Australian Family Business located in Sydney
Power Planters are a patented design hand made in the USA



Also great for:

Drilling a tunnel under a path. 
Mixing a barrow load of concrete. 
Deep Watering/Fertilising holes for trees. 
Aerating a Compost Heap. 
N.B. The price does not include the Dewalt Drill shown in the demonstration images. The Power Planter can fit onto any standard Australian 18v cordless drills with 13mm chuck opening. (eg. Ryobi, Bosch Blue, Black and Decker, AEG, DeWalt, etc )

Look out for plants that are sensitive to frosts and if they are in pots, move them to a protected spot. Remember brick walls will act as heat banks to give them some extra protection.
Prune your Stone Fruit trees now before winter so that their wounds heal over before winter hits. You'll want to create a vase type shape with these fruit trees so that the sun can reach all the inner fruit.
April and May is a great time to be planting Bulbs that will flower a bit later towards the end of Winter and into Spring. Check out our Bulbs Sale.
Pumpkins will be ready for harvest. Leave a section of stem on each one. Store them undercover on their sides in a dry spot.
Trim back your herbs now but don't waste all that greenery. Have a go at drying them and then you can add them to jars in the pantry. The Aussie Gardener Kitchen Scissors are perfect for that job.
It's a good time to put strawberry plants in. (except for cold areas, wait until Spring) They like rich soil with lots of compost and manure before planting. This will also help to lower the soils pH to be slightly acidic which they love. Add some straw mulch to the surface to keep the fruits from touching the soil. That's why they are called 'Straw' berries because they were grown on straw. If you'd like to be able to easily measure your soils pH, get the Aussie Gardener Soil pH and Moisture Meter.
This clever device doesn't need any batteries and will give you readings on the pH level of your garden beds as well as the moisture content. 
Simply insert the two prongs into predug soil and look at the meter reading in the top. 

Brian and Kaylene show how to use this product in the Veggie Classes episode 4. 

To sign up to the FREE  veggie classes, head to
Please note: We now have our own Branded model which has better information on the pack and works very well. The photo shown currently is the old Ryset model.

Look out for scale pests on fruit trees. They will look like little caps stuck to the branches. Treat these with white oil on a cool day so you don't burn the plant.
Your fruiting veggies will be finishing up as they are happiest in the warmer seasons. Harvest what you can and then pull them out and refresh the bed ready for Winter veggies like Broccoli, Cauliflowers, Kale and so on. Refer to the Veggie Sowing Planner to know what to plant in your zone.
Create frames for veggie netting to go over your Brassica family crops. This includes Kale, Cabbage, Cauliflower, Brocolli, to stop the white cabbage moth laying eggs which hatch into caterpillars. Grab some Veggie Net from the Aussie Gardener store and you wont have to worry about them feasting on your lovely greens.
If you live in the tropical areas at the top of Australia, you will be getting some welcome relief from the heat of summer and now is a good time to start growing all the veggies that just wouldn't survive in the full on heat of Summer. See the Veggie Sowing Planner to know which ones to sow now.
The most requested product we have is the Crop Rotation -  Veggie Sowing Planner.
Instead of trying to figure it out yourself, this 1 page guide gives you all the information you need to successfully sow vegetable seeds at the right time, the right depth, right spacing and even know how long it is going to take till they are ready to harvest.

It even takes into account the 4 main climate zones in Australia which have different rules when it comes to how you grow vegetables at different times of the year.

If you want to get off to a great start with growing veggies at home, this planner is a must. 

What it covers
All the most popular vegetables grown in Australia (34 in total)
Shows you how to work out which climate zone you live in
Plans out when to sow each variety in your area
Seed sowing depth
Plant Spacing
Row Spacing
Whether you should sow straight into a veggie bed or whether you should grow it in a seedling tray first
Whether it is frost sensitive
How long it will take to harvest
What Group each variety falls into based on their Nitrogen Needs and how to rotate through those groups.
PLUS 
On the back is a grid layout for you to draw up your Veggie Patch and plan out what to grow each season. Along with an example to get you started. 

If you want to do things the easy way, get this planner and watch along with the Veggie Class Videos. 



Keep an eye on your indoor plants as you start to turn the heating on. You might have to move some away from heaters. Air Conditioners in particular are not plant friendly as it dries out their leaves.
Prune your hedges now so they get a flush of new growth before Winter. This is particularly important for Buxus hedges that will turn yellow/brown in winter. Getting that flush of new growth in Autumn will keep them looking green all winter.