Knowing what vegetables to plant now in April is going to come down to where you live in this beautiful Country.
There are 4 main growing zones. Sorry we can't list every town, but there should be enough listed here to figure out where you are.
Canberra and the mountainous regions. Southern Grampians, Ararat, Pyrenees,  Ballarat, Hepburn, Mount Alexander, Macedon Ranges, Murrindindi, Yarra Ranges, Baw Baw, Wellington, Mansfield, Wangaratta, Mount Beauty, Towong, East Gippsland, Jindabyne, Cooma, Bombala Queanbeyan, Tumut, Goulburn, Upper Lachlan, Oberon, Blayney, Bathurst, Lithgow Armidale, All of Tasmania
The warm temperate zone includes Sydney, Melbourne, Adelaide, Perth, Margaret River, Geraldton, Bunbury, Margaret River, Esperance, Eucla, Ceduna, Port Lincoln, Leigh Creek, Renmark, Burra, Mount Gambier, Horsham, Lakes Entrance, Wollongong,  Newcastle, Port Macquarie. Upper Hunter, Singleton, Walcha, Uralla, Glen Innes, Tenterfield.
Kempsey, Coffs Harbour, Clarence Valley, Ballina, Byron, Tweed Heads, Kyogle, Brisbane, Maryborough, Rockhampton, and Mackay
The Hot Humid Zone includes Townsville, Cairns, Cooktown,  Weipa, Burketown, Borroloola, Timber Creek, Katherine, Oenpelli, Nhulunbuy,  Darwin, Wyndham, Derby, Broome, Port Hedland, Dampier and Exmouth




For areas inland which are more classed as Semi Arid or Arid, you would usually look at the nearest coastal area on the same horizontal band as you, but take extra care by adding shadecloth during hottest months.
Cool Areas can sow:
Broad Beans
Peas
Snow Peas
Cabbages
Cauliflower
Kale
Leek
Lettuce
Silverbeet
Spinach
Beetroot
Carrots
Garlic
Onion
Radish
Turnip
This little seed dispenser is very handy to have. Turn the dial to suit different size seeds, it stops you planting too many in each hole.
We have put together 24 of the best growing varieties of vegetables in one easy kit. Nothing Genetically modified. All good solid varieties that have been growing in australia for the last 20 or more years. Enough for a full year of veggie growing (and more)
Store these seed packs inside your home in a dark cupboard away from heat. They way they will last about 2 years. 
A full years worth of seeds - 24 Top Growing Varieties. 
Climbing Beans

Broccoli

Chinese Cabbage

Lettuce 

Silverbeet

Corn

Zuchini

Cherry Tomato

Beetroot

Radish 

Broad Beans


Peas

Cabbage Red


Cauliflower

Capsicum

Kale

Cucumber

Eggplant

Pumpkin

Carrots

Onion Brown

Onion Red

Rocket

Watermelon
Temperate Areas  can sow:
Broad Beans
Peas
Snow Peas
Broccoli
Brussels Sprouts
Cabbages
Cauliflower
Kale
Leek
Lettuce
Silverbeet
Spinach
Beetroot
Carrots
Garlic
Onion
Radish
Turnip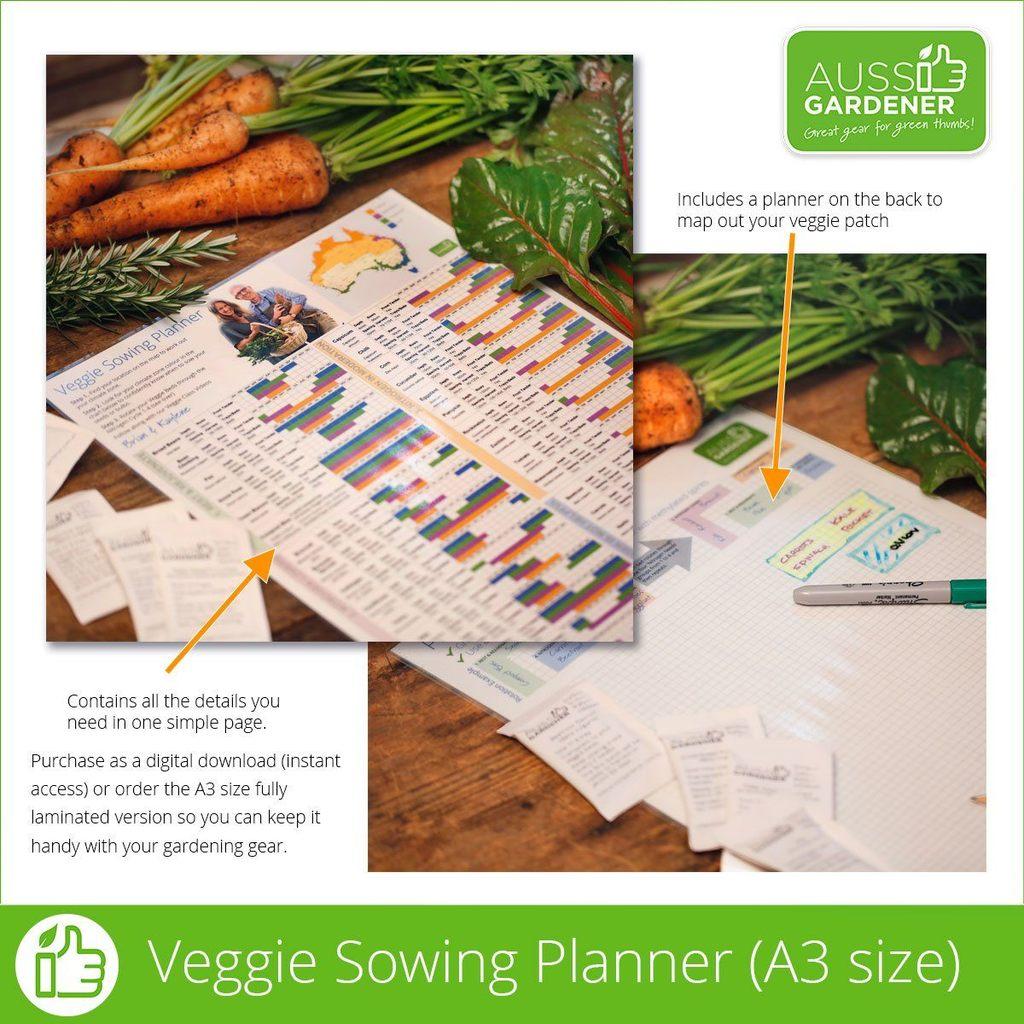 AUSSIE GARDENER VEGGIE SOWING PLANNER
Get the Aussie Gardener Veggie Sowing Planner so you can see ahead what to plant in your veggie patch each month. It covers all the important info like Planting depth, Spacing, whether you should sow in your beds or start them in trays, whether they are frost sensitive and much more. All in an easy to read format that covers all of Australia.
On the back you can plan out your patch using the A3 laminated poster.
Subtropical Areas can sow:
Broad Beans
Bean Climbing
Pea
Snow Peas
Broccoli
Brussels Sprouts
Cabbages
Cauliflower
Celery
Kale
Leek
Lettuce
Rocket
Silverbeet
Spinach
Beetroot
Carrots
Garlic
Onion
Potatoes
Radish
Turnip
Raising Seedlings in a Propagator will get you far better results. A lot of our customers use this one. It holds 72 seedlings at once.  $29.50
The cheapest way to grow your own veggies is from seed, but sometimes it can be a bit tricky caring for the newly sprouting seeds when outside. 
Thats where this mini hot house does all the caring for your 72 seeds that are sprouting. 

A low cost way to successfully sprout seeds ready to transplant into the veggie patch
Has opening air vents to control the humidity and keep the plants happy
Comes apart for easy cleaning. 
Can be used over and over.
There is 12 rows of 6 cells. Plant 12 different seeds and have 6 plants of each 

Check out the Aussie Gardener Tutorial videos on how to grow from seed using this propagator.

New Model: We got this propagator redesigned so all the pieces fit together well. Also made the plastic thicker so that it will last well. With a bit of care you will be able to use these for several years.  

Tropical Areas can sow:
Broad Beans
Bean Climbing
Pea
Broccoli
Brussels Sprouts
Cabbages
Cauliflower
Celery
Kale
Leek
Lettuce
Silverbeet
Spinach
Capsicum
Chilli
Corn
Cucumber
Eggplant
Pumpkin
Rockmelon
Zucchini
Tomato
Watermelon
Beetroot
Carrots
Garlic
Onion
Potatoes
Radish
Sweet Potato
Turnip
Aussie Gardener Veggie Nursery Kit