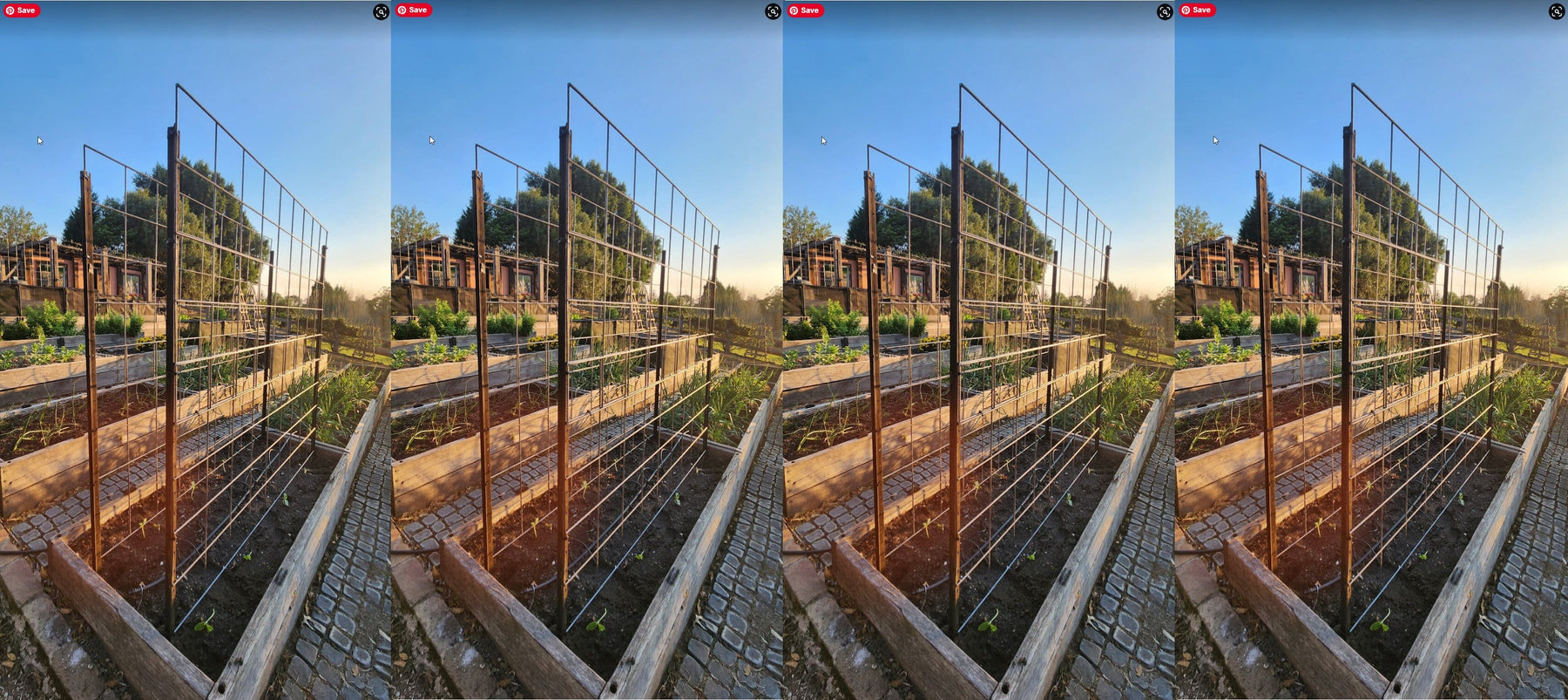 How to build a Bean Trellis in steel mesh
Kaylene and I completed a little project in the veggie patch yesterday that was very satisfying. 
Simple enough for anyone to do and will be great for growing climbing beans and cucumbers. 
See the details below. 

I've laid out all  the materials and why we used each one so you can avoid the mistakes we started to make. 

Brian :-) 
p.s. If you find this article helpful, share it with your gardening friends and introduce them to Aussie Gardener too. 



Material List
2 x Star Pickets 2.4m ht
2 sheets of concrete reo mesh 7mm diameter  1800mm x 1000mm 
1 pack of heavy duty cable ties 7.6mm wide (usually 300mm or more long)
Mallet hammer
Ladder
Level (or your own judgement if you have a good eye for vertical) 
Why we chose star pickets
Our initial thought was to use some heavy duty reo bar as the uprights but it turned out to have too much movement due to the flex in the rod even when well hammered in. 
Star pickets have the extra 3 way ridge strength and worked out a lot better. 
The other option would be to concrete in some timber posts but that would make them very permanent and we didnt want to have treated pine in our veggie patch. 
Why we chose reo mesh
Our garden has a nice rustic feel to it, with heavy timbers, stone and steel. We looked at galvanised mesh options but they were a lighter guage steel (thinner) and didnt have the rigidity we needed when only using 2 end stakes. Also a lot of the galvanising sold these days  in hardwares is not to the same standard and ends up rusting anyway! 
The steel used in the reso mesh is construction grade and is going to get surface rust within weeks of being outdoors, but it will take many years for that rust to get through the 7mm steel. 
To back this thought up, you will often see the reo mesh stored outside at the hardwares and covered in surface rust. 

Also this mesh has large openings which is great for being able to reach your hands through for picking beans and cucumbers on either side. 
It also has little ridges all over the mesh (originally to help the concrete stick to it) but in our case it gives plants a great place to grip on as compared to shiny smooth wire which it can slip off from. 
Why we put the mesh lengthways rather than vertical?
Because the mesh is not sitting on the soil, it is better to have one long piece spanning the gap rather than having a possible sag in the middle at the overlap. 
Putting it together was also a lot easier when handling the sheets on their side. 
We just placed them on a brick at each end to get them off the soil and then attached them to the star pickets with cable ties
Why we used plastic cable ties rather than wire?
We could have used wire and it would have looked great, but cable ties are fast and easy and the black ones are UV stable (look for this on the pack when you buy) They will last a few good years in the sun and can easily be replaced. 
We may end up changing them to wire in the future. 
A little tip with the cable ties, when you cut off the excess (there will be lots because the heavy duty 7.6mm cable ties dont come in short lengths), the edges are often quite sharp. We used a file to round off the corners so there was no risk of cutting our hands when reaching in to harvest. 
Why did you do 2 rows for one of the beds?
This bed has cucumbers planted that will climb and benefit from the extra layer of mesh to hang in between. 
We might add some extra wire or rods between the two, to make it more rigid, but the vine tendrils will reach out and find that second wall to grab onto. 
The cucumbers will nicely hand in the space between the two and be easy to reach in and pick and have good airflow reducing the risk of fungal issues like powdery mildew. 
It's an experiment and we will keep you posted on how it goes.