Intro Offer: Use Discount Code:INTRO$20 to Get $20.00 off your Pestfree Order today
Finally a solution to stop all those bugs and pests from eating your veggies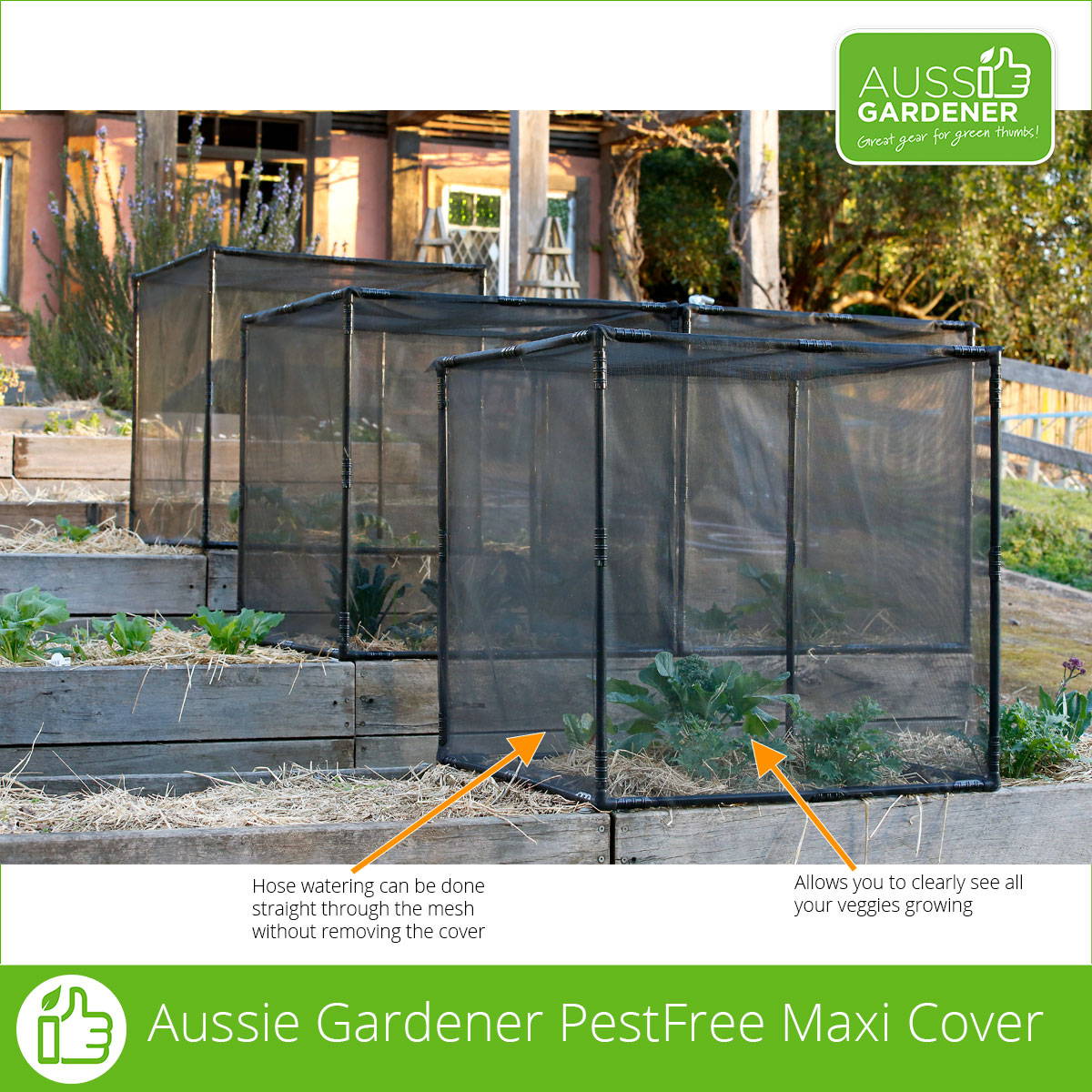 PestFree Maxi is a 1m wide cube but can be easily trimmed for narrow beds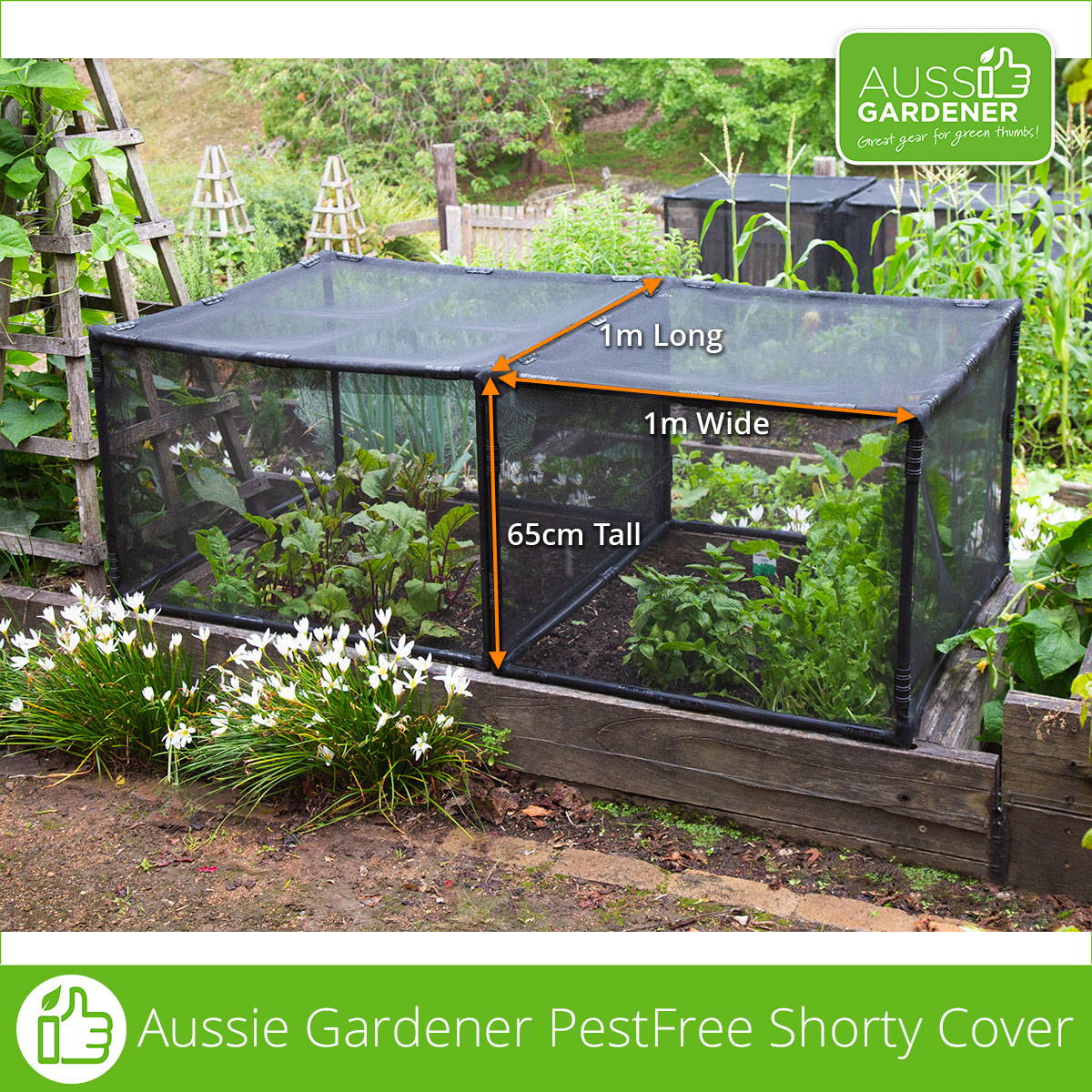 PestFree Shorty is a 1m wide and long and 650mm tall. Ideal for most vegetable growing
Intro Offer: Use Discount Code:INTRO$20 to Get $20.00 off your Pestfree Order today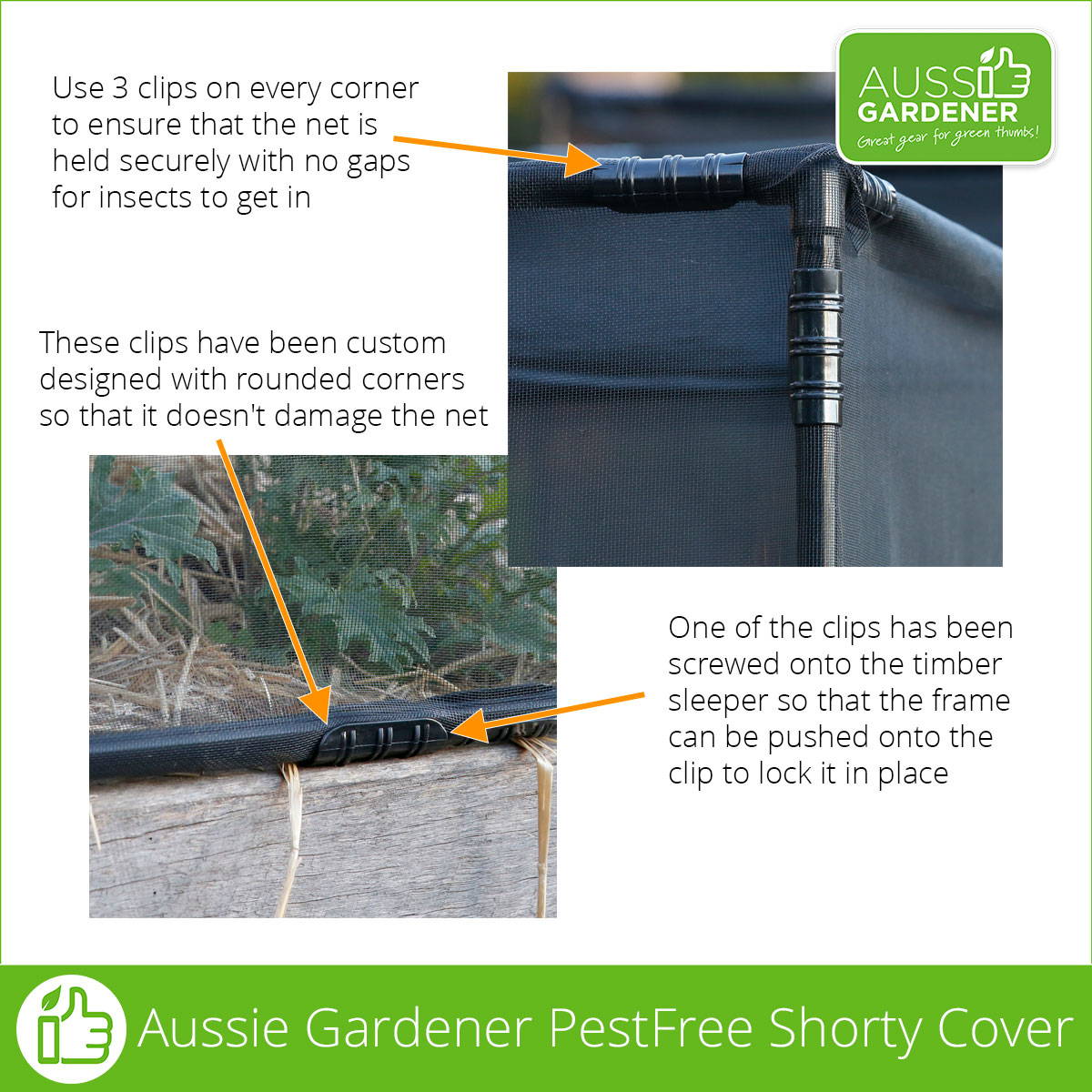 Made from heavy duty black pvc pipe and UV stable fittings for long life outdoors
To access your veggies, simply lift the whole frame off in seconds. No more clips to undo or messing around with net.
Why did we make the PestFree Covers?
If you've had a go at growing your own vegetables, you would have also experienced the disappointment when they get attacked by bugs, snails, birds and possums. In our veggie patch we grow everything organically so that means no pesticides. It can be quite difficult to stop all the pests when you can't just resort to a chemical spray.

In the veggie classes we teach about using veggie netting over your crops to solve most problems. But there were a few issues with the netting.


It was white and stood out like a sore thumb.
You had to take clips on and off to harvest and each time you did it caused damage to the net + plus they were very fiddly
To build a structure for the net to clip to required metal pipe, a grinder and safety gear.
If you werent diligent in reclipping the net the insects got in and you ended up with damaged veggies again.
Initially we were developing a way to leave the frame in position and unclip the net each time you wanted to harvest but in the end we found it was just so easy to lift the whole frame off the bed giving you unrestricted access. No clips to undo and fabric to wrestle with. The whole cover is light weight and can be lifted on and off in a few seconds.
If your beds aren't 1m wide, you can trim the pipe easily using a handsaw or plastic pipe cutting tool. We even have extension fittings available so you can make the frames longer, but keep in mind that a 1m span is a good size to hold by one person so in most cases it is best to divide the bed up into a couple of frames to make it easy to attend to.
Check out the reviews below. Lots of our customers are now using these they make growing veggies stress free and they look really nice too!

Brian and Kaylene :-)
p.s. You will find all the Frequently Asked Questions on the product pages.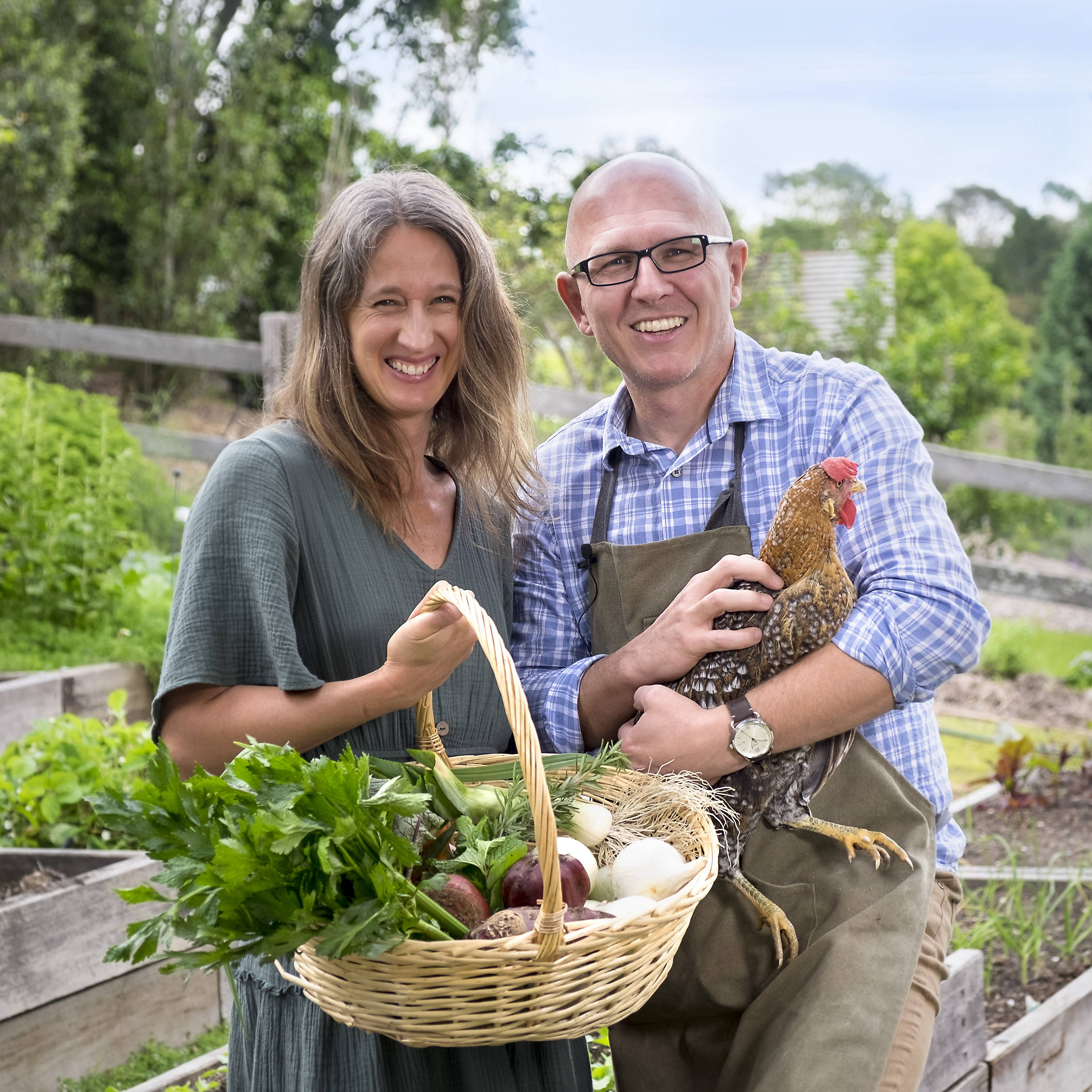 At Aussie Gardener we are on a mission to make gardening easier so we spent a year developing and testing the PestFree Maxi and Mini Covers so that you can easily grow pesticide free at home. 
Each frame is made using 12 lengths of heavy duty black pvc pipe, 8 x 3 way elbows, UV stable fibreglass mesh and 36 clips to hold it all in place and tidy. To assemble, all you need is a hammer and a pair of scissors to trim the net when done. Very easy.
Visual Comparison of white veggie netting and the NEW PestFree Maxi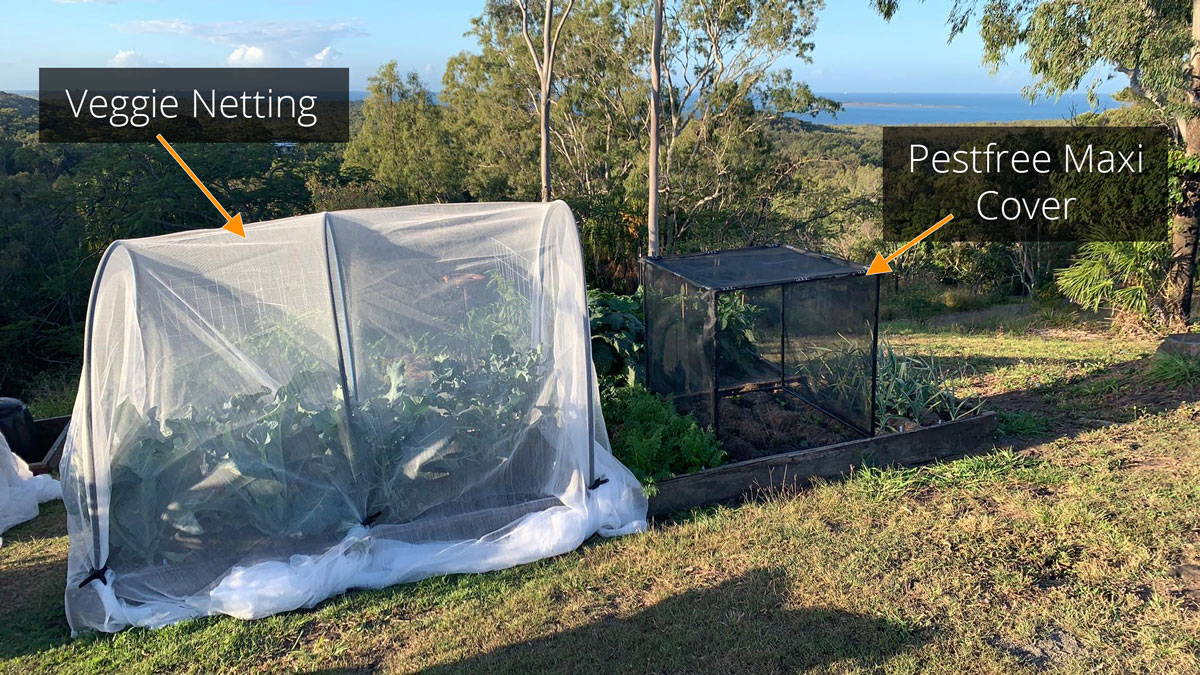 The NEW PestFree Covers allow you to grow pesticide free and look great too.
Tried to grow veggies but bugs and possums eat everything?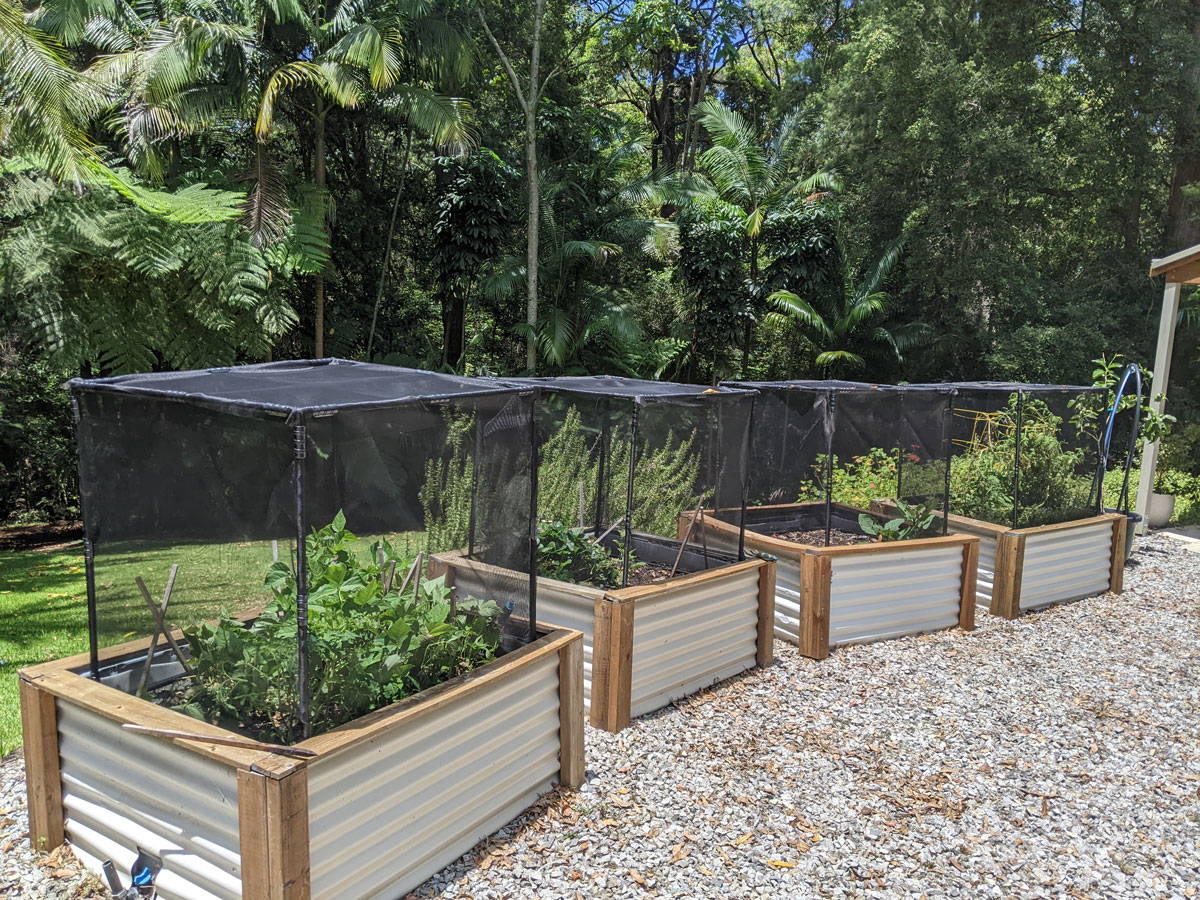 "Hi Brian, I've just finishing installing my pestfree covers onto my ibc wicking veggie beds. Very happy with the result. I needed to shorten one side on each by 60mm to get them to fit inside the beds. All very straight forward. Assembling the covers was great fun, no dramas thanks to the useful video.
Two tips for new players. Mark any shortened sides with a piece of electrical tape, this saves remeasuring and avoids installing the mesh the wrong way. I may have done this once. The second tip is to file off the edges of you cut the pipe as it makes assembly much easier.
Pic attached of the final result. One to me and zero to the possums and bower birds.
Thanks for the great service. "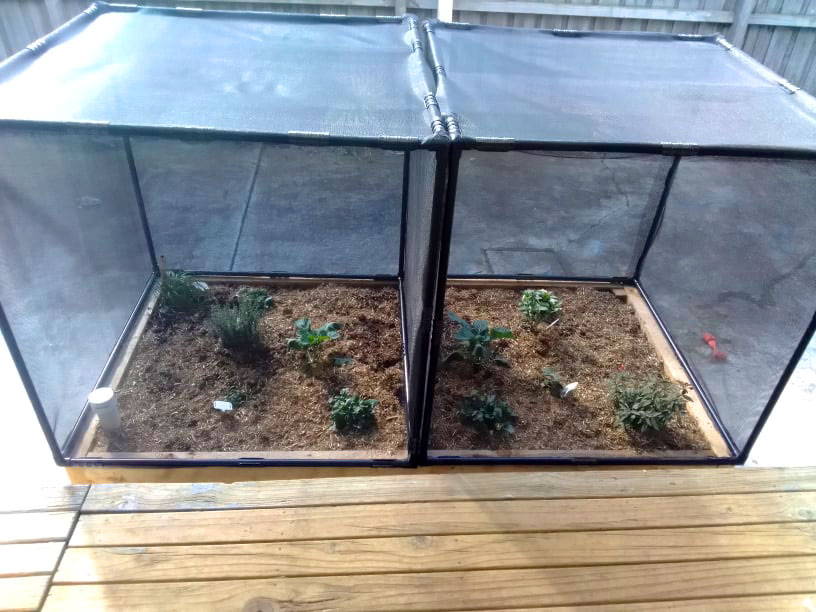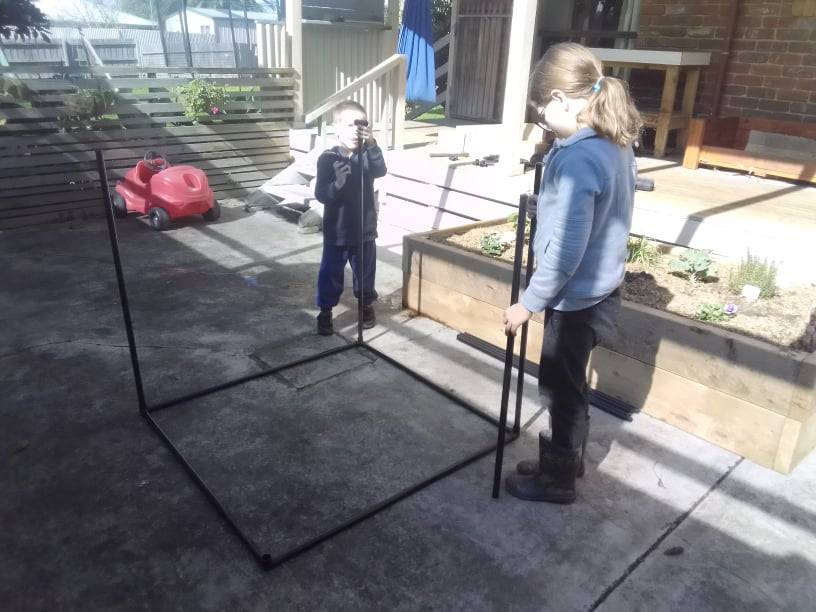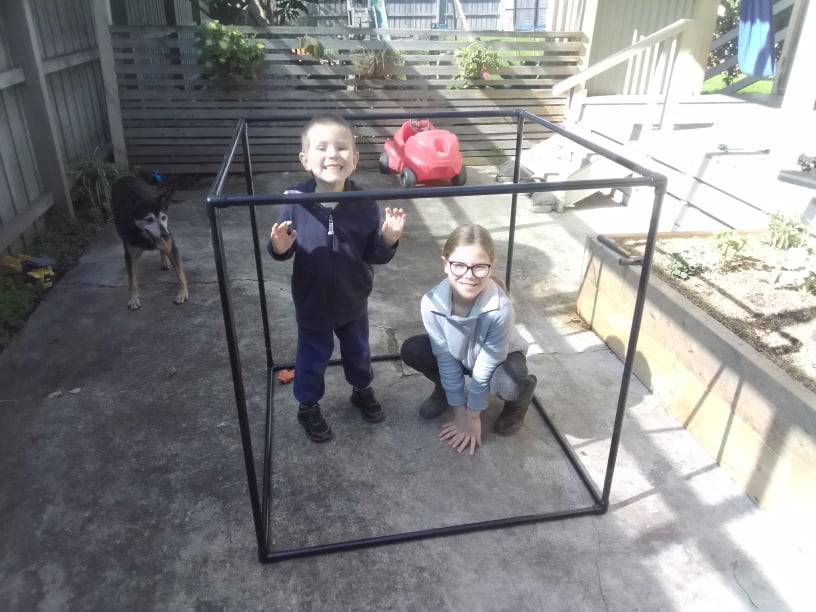 These gems were so easy to put together
I let my 8 and 4 year old create them
"I have had the pleasure of setting up the new PestFree Maxi Cover created by our very own Brian and Kaylene at Aussie Gardener.
These gems were so easy to put together I let my 8 and 4 year old create them (kids get all the fun!
).
I've been looking at creating nets for my veggie patches as last year's cabbage moths were a big problem but with limited tools and not much know-how I've put it off again and again.
These PestFree Maxi Covers have taken all the guess work and tool gathering out of the equation.
Comes in a box with all the pieces, and some spares! Watch the instruction video, let the kids loose.... I mean, put it together with no more than a hammer. Done!

Laura McGuirk - Nth Wonthaggi VIC
Intro Offer: Use Discount Code:INTRO$20 to Get $20.00 off your Pestfree Order today
"Hi Brian and Kaylene, Proof is in the pudding.


What a difference having the covers has made

. The broccolini was all planted at the same time but the cover would not fit over whole bed. But it is wonderful proof of just how effective your covers are.

The plants are bigger, stronger and not one not leaf chewed.

We are so happy with the nets. Next year we will plant in one metre squares so that they are all covered. Many thanks"

Pat Ovens - Mt Waverley VIC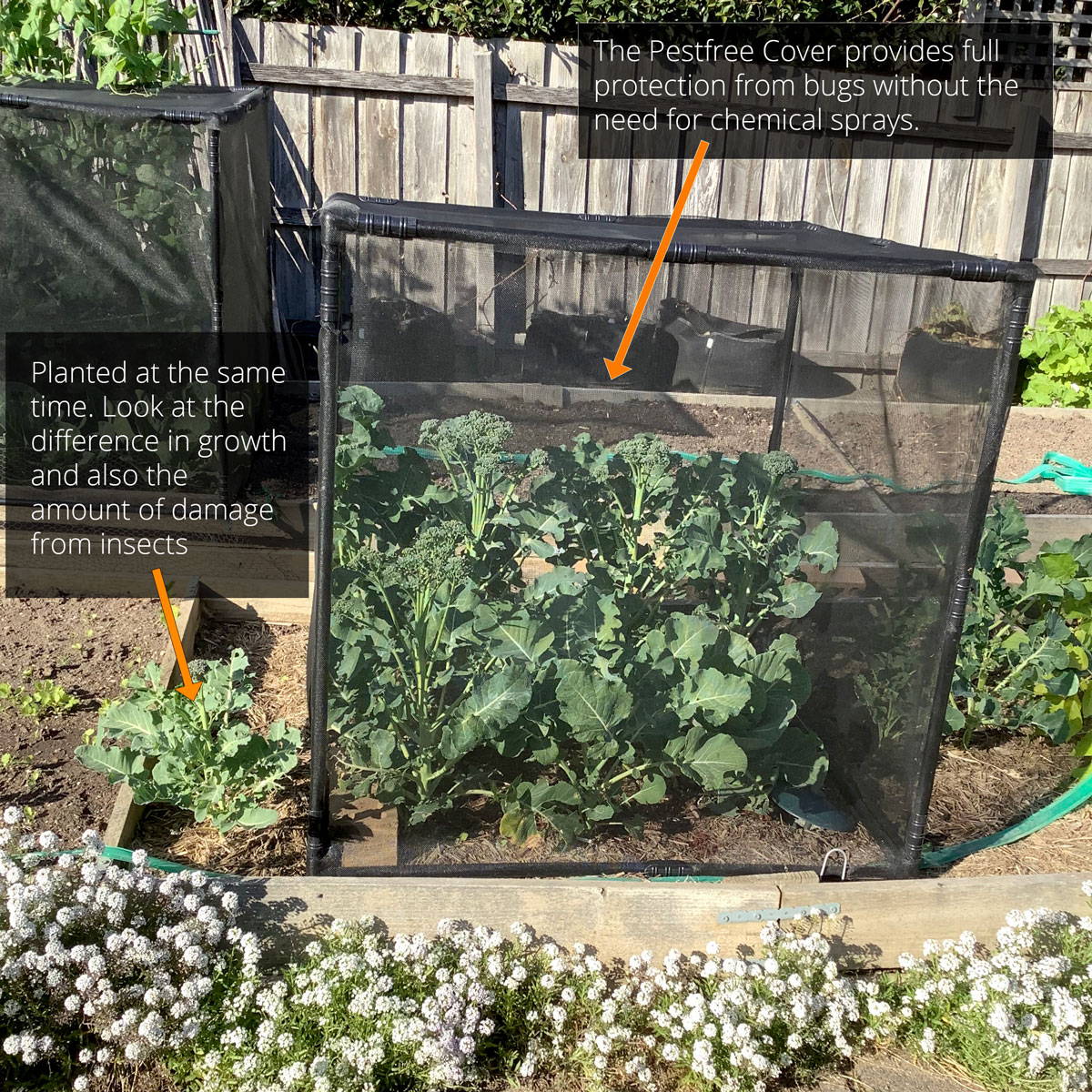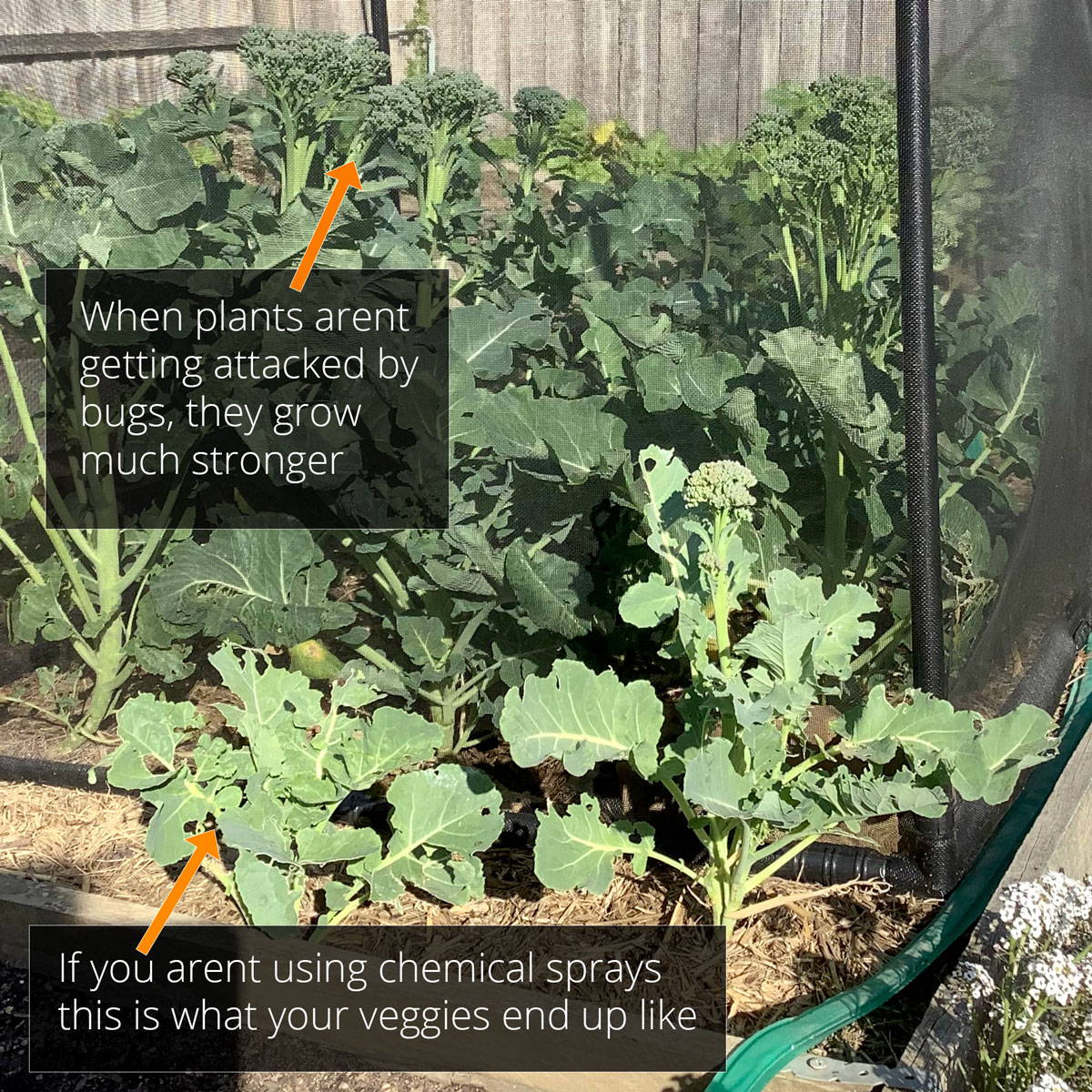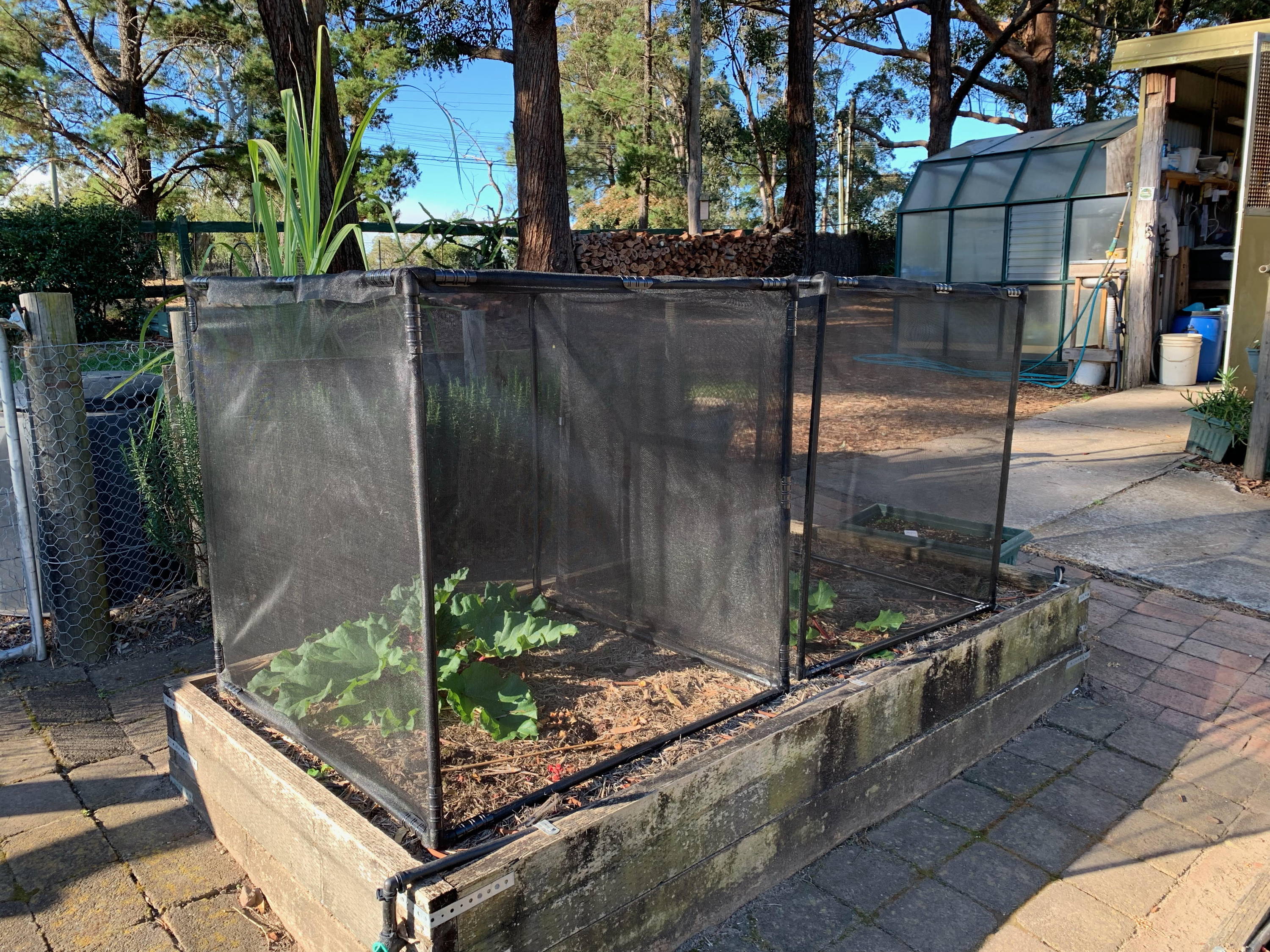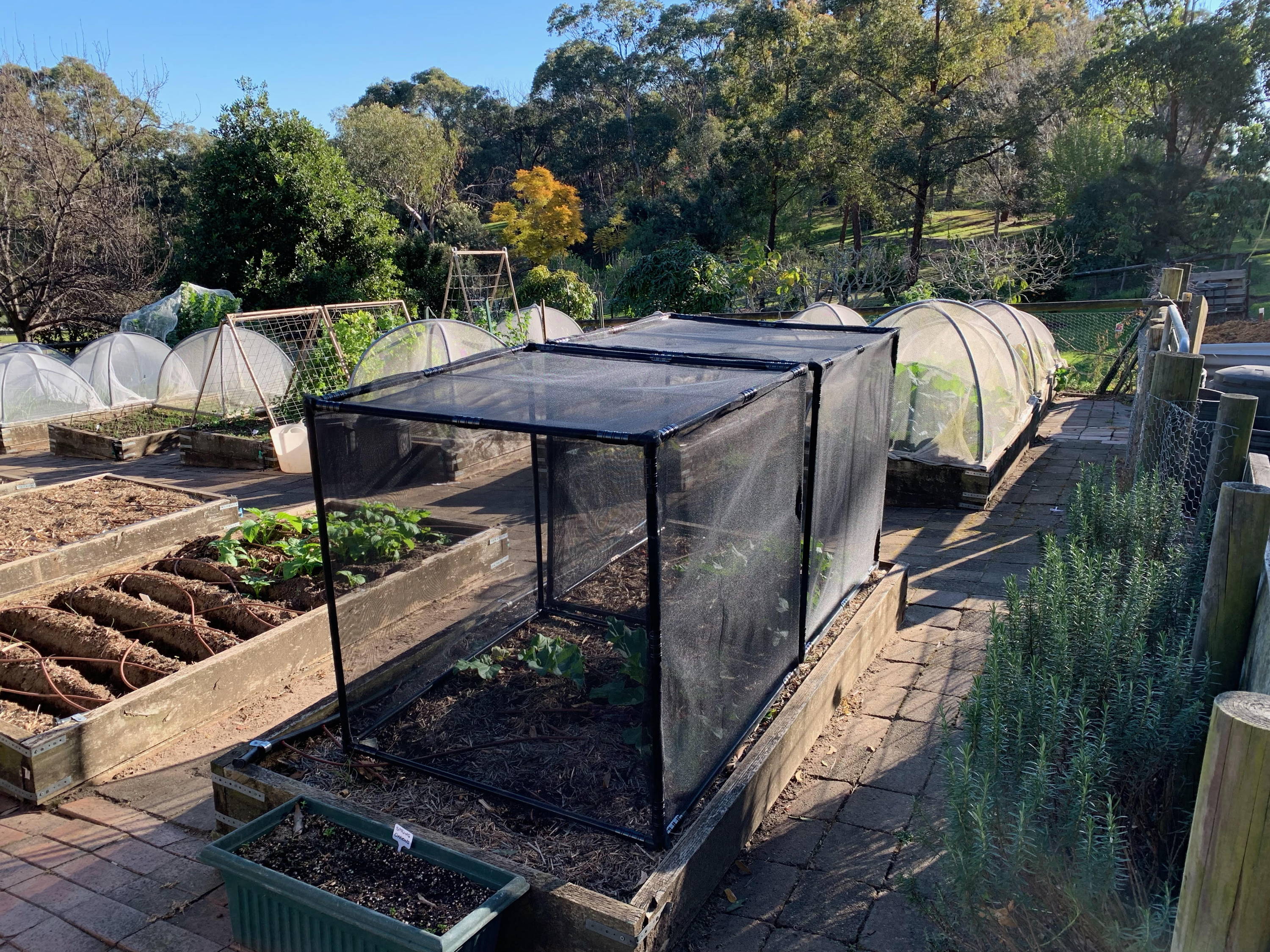 The cover will keep out insects and the mesh is fine enough to keep out fruit fly.
"It takes only about 10 minutes to fully assemble the cover. You literally will only need a hammer to assemble it. But a pair of scissors are useful to trim the excess mesh.
The cover is light enough to easily lift on or off the bed so you can access your plants.
The cover will keep out insects and the mesh is fine enough to keep out fruit fly.
The tubular frame components are well made and fit together to make a cube 1 metre wide by 1 metre long by 1 metre high. If you need to make it smaller, the lengths can easily be cut down to suit the dimensions you need.
The tubular frame can be filled with water for greater stability. The frame and mesh are UV stable so they should last well.
If you've been looking for ways to protect your vegetables from pest attack, have a look at this.

Chris Jones - Kenthurst NSW